Employees and the public have been indefinitely banned from the premises, and the observatory's website now reads: "TEMPORARILY CLOSED". No one seems to know what is going on – not even the local sheriff, who sent his deputies onto the scene only to find absolutely no specific threat.
"The FBI is refusing to tell us what's going on," Otero County Sheriff, Benny House, 

told

 Alamogordo Daily News. "We've got people up there (at Sunspot) that requested us to standby while they evacuate it. Nobody would really elaborate on any of the circumstances as to why. The FBI were up there. What their purpose was nobody will say."
Nestled in the Lincoln National Forest at an altitude of 2,800 metres (9,200 feet), the observatory's remote wilderness location is exactly the sort of place where strange and suspicious stories take root.
A resident from the nearby town of Cloudcroft told the media that "nothing really happens" up there. Left completely in the dark, the resident said that the evacuation could be due to "almost anything". The only hint so far? The local post office has also been shut down. But even their employees are confused.
"Right now, what we're told is that they've temporarily evacuated the area. We haven't been told why or when that expires," Rod Spurgeon, a spokesman with the USPS, 

told

 ABC 7.
Without any answers, imaginations have begun to run wild, and spine-tingling parallels have been drawn between the mysterious event and our favourite extraterrestrial plotlines. A secret research facility that no one knows anything about is shut down without an explanation. The FBI steps in and the local sheriff is pushed out.
Nearby residents are left completely in the dark. Is it a government conspiracy to cover up contact with aliens? Is it some foreign power, spying on a nearby missile range? Did the observatory capture an image of a secret machine or craft near the sun? Have they opened a portal into another world?
The company that runs the observatory – The Association of Universities for Research in Astronomy (AURA) – has done little to dispel the wild rumours that have naturally popped up online. An AURA spokesperson has told the media that there was a "security issue", but she was unable to give any more details.
"I am actually not sure (when the facility was vacated) but it will stay vacated until further notice," spokesperson Shari Lifson told Alamogordo.
Lifson was also unable to comment on whether the FBI was involved, despite the fact that the Sheriff has confirmed such reports.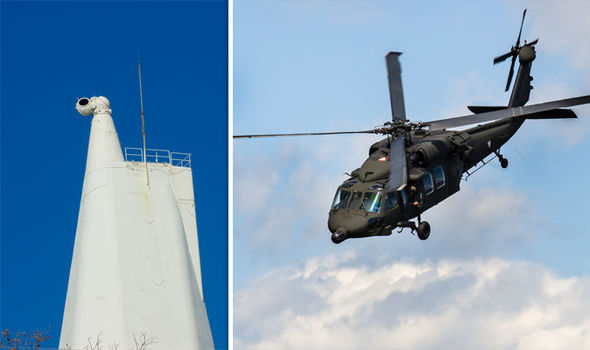 "… for the FBI to get involved that quick and be so secretive about it, there was a lot of stuff going on up there," House said. "There was a Blackhawk helicopter, a bunch of people around antennas and work crews on towers but nobody would tell us anything."
The FBI is directing all inquiries to AURA, but even Sheriff House is getting little information from the owners.
"They're not federal employees," he said, referring to AURA. "It may be somebody who threatened one of their workers. If that's the case, why didn't call us and let us deal with it? These guys are regular workers that work for this company. I don't know why the FBI would get involved so quick and not tell us anything".

The only acknowledgement that there is a growing number of conspiracy theories comes from Sunspot's website.
"With the excitement this closure has generated, we hope you will come and visit us when we do reopen," the homepage reads," and see for yourself the services we provide for science and public outreach in heliophysics."
That's assuming the observatory will be opened once again…